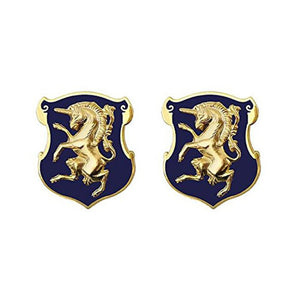 6th Cavalry Regiment Unit Crest (pair)
Regular price
$13.50
$0.00
Unit price
per
6th Cavalry Regiment Unit Crest (pair).
A distinctive unit insignia (DUI) is a metallic heraldic badge or device worn by soldiers in the United States Army. The DUI design is derived from the coat of arms authorized for a unit. DUIs may also be called "distinctive insignia" (DI) or, imprecisely, a "crest" or a "unit crest" by soldiers or collectors. The U.S. Army Institute of Heraldry is responsible for the design, development and authorization of all DUIs.

Distinctive unit insignia (DUI) of a design approved by The Institute of Heraldry, U.S. Army, are authorized under Paragraph 28-22 of Army Regulation 670-1. 

Distinctive Unit Insignias are worn by every U.S. Army soldier on one of these locations:
On the beret flash of enlisted personnel
On the breast patch of the black pullover sweater
Above the nameplate on the Class A and Class B service uniforms, when the DUI is worn in lieu of a regimental distinctive insignia (RDI). At the soldier's option the RDI, DUI of their current assignment or the DUI of a previous assignment may be worn above the nameplate. If worn, the RDI for whole branch regiments (MP, Signal, Quartermaster) must be that of the soldier's current career field.